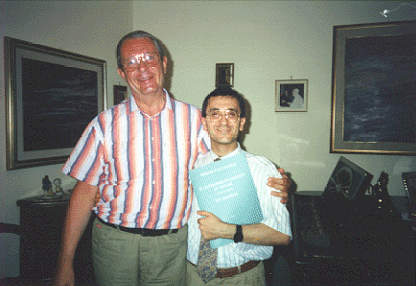 Now you could ask why such a Sergio Calligaris' informal photo with the editor of this website introduces this page, instead of an usual thoughtful or performing one, as in the other pages.
Well, not only because it best reveals his actual exuberant and involving pleasantness, but also because this page is entirely dedicated to one of Maestro's most representative works, the Piano Concerto Op.29, one of the highest peaks of the whole historical concert repertoire. Since it was written for himself as a performer, it therefore fits perfectly for his unusual talent as a pianist. I've chosen to include myself for gratitude to this composition, through which my friendship with Maestro began according to the tale I'll briefly make at the end of this page. But I prefer first to give priority to reviews of the score (Carisch 22297) and the CD (Agorŕ AG 042.1), by more influential scholars to situate this composition according to their feeling in studying the score, watching and listening to his performance.
°Quodlibet (literally "what is liked"), music composition in which melodies with dissimilar traits blend each other, other than being a technique appreciated by Maestro, in my opinion is also a valid metaphor to describe our friendship.
---
Reviews of Concerto op.29

MUSICA E SCUOLA, Year IX - Nr.3 February 1995 (page 42):
(Gioiosa Editrice - Sannicandro Garganico, FG)
Courses and competitions: Review of the score,
by Michele Gioiosa
Sergio Calligaris' Piano Concerto op.29 is a mastodontic work, which has seen in its first two performances, both entirely recorded and broadcasted by RAI, the author himself at the piano. The premičre took place at the Via della Conciliazione auditorium in Rome on February 23rd, 1994, when the Vatican Broadcasting Corporation recorded the concert to be published in a CD; the performance of the Albanian TV-Radio Symphony Orchestra conducted by the very musical Massimo De Bernart was excellent. In Naples the Concerto was performed on following February 26th with the same Orchestra but conducted by Vittorio Parisi.
The Piano Concerto op.29 involves, other than the piano having an essential part with a dense and transcendental writing, a great orchestra with the following instruments: piccolo, 2 flutes, 2 oboes, English horn, 2 clarinets in B flat, 2 bassons, 4 horn in F, 3 trumpets in C, 3 trombones, tuba, 4 timpani, xylophone, glockenspiel, bass drum, violins I, violins II, violas, cellos, double basses. The Concerto is structured as follows: 1 - Moderato e Maestoso assai; 2 - Scherzo e Doppio Trio; 3 - Allegro ostinato; 4 - Adagio e Gavotte; 5 - Allegro ostinato; 6 - Agitato con fuoco; 7 - Tempo I; 8 - Cadenza; 9 - Coda. Who knows Calligaris' writing recognizes the happy inspiration of a composer who is first of all a pianist in career and therefore writes music to be performed for the audience. The Concerto opens with a wonderful theme assigned to the orchestra, the piano accompaning with wide arpeggios and recalling Rachmaninov's Second Concerto. The Scherzo theme given to the piano is exceptional and violins execute this theme augmented and cellos augmented and inverse; the Trios melancholy themes are wonderful, opposed to the lively mood of the Scherzo, in the refrain of which the glockenspiel takes part. The percussive and virtuosistic element is always present throughout the work, but themes bringing to gloom and mildness never fail; also the Gavotte recall belongs to the Calligaris' dearest moments as composer. After the Agitato con fuoco the beginning theme returns, flowing into a virtuosistic Cadenza; the various themes previously heard are listened again. A whirling final Coda begins softly with piano, cellos and double basses, growing more and more with all the other instruments to reach to a deafening and very intense conclusion.
Michele Gioiosa
PIANOTIME, Year XIII - Nr.135 March 1995 (page72)
(Ediscreen lic.Publitarget - Roma)
Contemporary shop-window: Review of the score,
by Carla Di Lena
Milan, Nuova Carisch, pp.103, nr.22297, s.i.p.
Difficulty: superior - Duration: 40'

Sergio Calligaris' style is unmistakable and arises from very clear awareness: the adoption of a neoclassical language (not neoromantic, the author cares to emphasize) which keeps a sense of tension and relaxation of the armonic speech and mantains the illusion of tonality without complying with its traditional armonic connections; and the aim to institute a relationship of immediate communicativeness with the audience, at the cost of appearing "old fashion". And now that many cultural trends went out of fashion and people look at a plurality of speeches without prejudice, it's possible to appreciate those contemporary expressions artistically valuable particularly addressed to their natural target, the audience. Calligaris, piano performer other than composer, knows well the audience as well as his instrument. He knows that the initial impact is decisive to draw the listener's attention; he knows that a measured alternation of different expressive situations is good for the work balance, and he knows also how to treat the piano. Calligaris renews the tradition of piano concerto with this last composition, intended also as a great spectacular event: an orchestra reinforced in its brass and percussion sections and a piano in full virtuosistic shape, divided into its percussive nature and a contrasting lyrical vocation. The Concerto, split up four wide movements, is the sound equivalent of a fresco in strong colours: explicit and evident themes appear condensed in the first movement to reappear treated and developed in the following movements; their cyclic return renews in the listener a sort of perspective memory. The formal elaboration, although strictly coherent, doesn't prevent the Concerto exuberance to appear at a first listening as a sort of spontaneous rapsodic improvvisation, able to attract listeners' attention for forty minutes. The Concerto, premiered in May 1994 by the author under Massimo De Bernart's baton and recorded by RAI (in the performance conducted by Vittorio Parisi) and by the Vatican Broadcasting Corporation, has been offered to UER and broadcasted in 20 European Countries other than in Italy, braving the perplexity of those who deny to contemporary music a diffusion and a wide proportion audience.
Carla Di Lena
MUSICA, Year XX - Nr.98 June-July 1996 (page 44)
(Edizioni Diapason - Milano)
A Concerto which looks at the past: Review of the CD,
by Umberto Masini
Valuation: ****
There is a Sergio Calligaris' record, which perhaps more than any other explains his music making and helps us to penetrate the secret of his workshop as composer. It's a CD almost unobtainable, published by the Vatican Library Publisher in Rome, in which the musician of Argentinian origin appears in the guise of composer and pianist.
There are various pieces by Chopin, pages by Sergio Calligaris himself and then an exceptional Prelude in C sharp minor by Rachmaninov, which alone is worth the expense and the effort to find out this rare record finding. Calligaris at the piano expresses the whole sense of his research in the careful analysis of armony, drawing from each note and each chord the whole sense of music and its mistery, also thanks to a very personal technique and an "excavation" on the key of rare intensity. It would be nice if Agorŕ, or Carisch managing the edition and distribution of Calligaris' scores, would devote theirselves to allow those rare recordings the diffusion they deserve. And it would represent for many keen on music the possibility to discover a not-very-known composer and to know a piano performing style of rare charm.*)
But we mustn't even complain about voids of current discography, because a new Agorŕ record has just been published, in which Calligaris plays his Piano Concerto op.29 in its world premičre.
This Concerto, composed at the beginning of Nineties, reveals strong romantic and classicistic ascendancies.
The armony of familiar piano timbre and rich orchestral mixture triumph in it, soon reminding of Prokofiev, Hindemith and Dallapiccola.
But Calligaris' speech is personal and goes well beyond these historic and stylistic references, being bound to a thin echo game and phonic symmetry as well as thematic solutions turning to the last romantics' history: as Brahms, who lived and interpreted consciously the end of an age, and as Rachmaninov, who cut out for himself an all "romantic" space out of time in a period then resolutely running towards Modernism.
Calligaris' music refers to this past and probably will not fail to foment discussions and maybe controversies.
But the record is beautiful and will be a pleasant company for the most radical lovers of avant-garde as well.
A quick positive comment must be said also for the Sonata-Fantasy op.32, composed in 1994 and here performed by the author.
It's a collection of sequences, a sort of musical diary rich of annotations and virtuosistic episodes - in a language very close to Shostakovich and Prokofiev - referring to the severe counterpoints of the Renzo's Pianobook: a fundamental page in Calligaris' catalogue we listened to with excitement, always in that rare record we talked about at the beginning, which should be really more spread.
It can't be said any more to introduce this composer's music, which must be judged more by the listener than by the critic, as all music in the world.
A special mention for the excellent dynamic and the technical quality of recordings made by the sound technician Carlo Tedeschi, founder of the Milanese label Iktius.
Umberto Masini
*) It's possible to listen entirely to Maestro Calligaris' renderings the reviewer refers to in the page Piano of this website.
---
The piano concert panorama is really boundless, since it's a genre very visited with a repertoire which comes up to the beginning of last century as a testing ground for all composers who wanted to highlight their own piano talent or the ones of virtuosos as payees of their work, from the classical age on.
Nowadays this genre is amazingly populated by new compositions, proving that in spite of the vanishing of traditional forms caused by the revolution carried out by composers of this just ended last century, it remains a genre which can offer attractive opportunities to express one's own creativity in dialectical confrontation between a soloist instrument par excellence and an orchestral unity from time to time particularly structured.
Since the last postwar years, we've seen the output of a considerable number of piano concerts, among which - restricting myself to the only ones I know and in a hazy chronological order - I'd mention as examples the ones by Howard Hanson (1948), Bruno Bettinelli (from 1953), Lars Erik Larsson (1957), Nino Rota (after 1960), Andrzej Panufnik (1962, rev.1982), Sofia Gubaidulina (1978), György Ligeti (1985-'88), the very young Lowell Liebermann (80's) and Michael Nyman (1993), keeping as last the Third Concerto by Zdenek Lukás (1993) and, above any other one, the immeasurable Concerto by Miklós Rózsa (1966).
Well, in such a rich and composite landscape of works, most of them unfortunately still out of repertoire and unknown to audience, in my opinion the wonderful Calligaris' Concerto brightly stands out, genuine crowning achievement of such a sumptuous history of the form: it's really impressive and involving in its deep communicativeness, not only emotional and exciting, but also rationally conversational and technically impeccable and insuperable: so peculiar to Maestro's musical speech.
But before telling about how my friendship with Maestro Sergio Calligaris was born, I wish to invite the visitor of these pages to listen to the first piece of the Concerto, Moderato e Maestoso assai, which atmosphere is capable of such an immediate involvement to leave almost breathless, I would say.
Piano Concerto Op.29
Moderato e Maestoso Assai



Sergio Calligaris, piano
Albanian TV-Radio Symphony Orchestra
Massimo De Bernart, conductor
(Premičre and first world recording, live February 23rd, 1994
Via della Conciliazione Auditorium, Rome).
I owe just this Concerto my friendship with Maestro: I'd like to make clear, first of all, that in spite of the curious homonymy it isn't me Renzo dedicatee of Pianobook (which dedication is to my great friend RENZO ARZENI, since in that case that's a much more ancient and deeper-rooted friendship). All began that day when, looking forward to watching the already mentioned TV broadcast of June 5th, 1994 (within the Series titled I Concerti di RaiTre -Concerts in Rai3-, after reading the program in the paper: I was very spurred on it because of the pleasant memory of this Composer I saw during my youth in the regretted broadcast Voglia di Musica -Wish of Music- by Luigi Fait, when he really excited me in his art), I was literally amazed by this Concerto. I felt so impressed by his music and performance, so fulfilled in my insatiable wish of knowledge of new music, which urges me to discover even the least frequented names by audience (mostly with disappointing outcome, in case of contemporaries), that I wanted at all costs get in touch by phone with the Author - I found out his particulars in "Who's who in Music" - to express all my gratitude for emotions and to congratulate, wishing to know soon his other compositions (and it happened pretty soon thanks to three tapes sent me by his Publisher Carisch) as well as hoping to thank him personally at the first opportunity. This took place next August 26th during a very pleasant conversation that Maestro granted to me in his house in Rome, where this photograph was taken by my brother who, as a gifted artist, made him a present of a portrait as a token of homage.
Since then my friendship with Maestro gradually intensified, bringing to me an invaluable benefit first humane as well as artistic in sharing interests (since I'm not professional in musical field).
As far as I can, I wish to do my best to popularize Maestro's art, by the same spirit which pressed me to make Maestro Vladimir Ashkenazy a present of Concerto score, in the dressing room before his concert conducting RSO-Deutsches Symphonie Orchester Berlin, with Sviatoslav Richter as soloist, in Verdi Conservatory Hall in Milan, the evening of September 20th, 1994: it wanted to be a listening proposal from a keen on music to a great professionist as Maestro Ashkenazy, who already appreciated Maestro Calligaris' art in the past.
This proposal bore its fruits: among the big deal of his artistic commitments Maestro Ashkenazy listened to the Concerto and appreciated it, and next January 27th wrote his enthusiastic opinion directly to Maestro Calligaris, whose address I had manually written on the first page of the score, hopefully. Since then a friendship refreshed and an artistic fellowship between the two Greats was born, which won't fail to bear precious fruits to advantage of music.
Other works followed this masterpiece - and many others will follow, since Maestro is in full swing of his composing activity - as proved by the list reported in the Catalogue page.
At the moment, one of the last known to the audience is the Double Concerto for violin, piano and string orchestra, written for the duet Krylov-Mormone. I attended the Milanese first performance, February 15th, 1999 in Palazzina Liberty: Milano Classica Chamber Orchestra performed, under Massimiliano Caldi's baton. I stayed beside the Author, in an indescribable jubilation of emotion and gratitude from an audience deeply involved by Maestro's music.
It was with this same spirit of emotion and gratitude that I dedicated myself to this demanding work in the web, hoping that many others could get emotions and delight in knowing the art of this great Maestro: to share my same gratitude to a man who is an undoubted master not only as for music, but especially in his great and positive humanity and personal sensitivity.
Renzo Trabucco, to his bosom friend Sergio