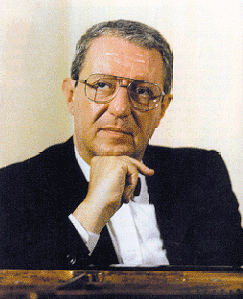 Sergio Calligaris numbers a great deal of interviews, frequently published and released to prestigious specialist musical magazines, both national and international.
The aim of this page is to list as many interviews as possible, reserving to each of them a page which contains the complete html transcription as well as a link, represented by the magazine front cover itself, to the AcrobatReader© reproduction of its pages.
Each interview is also provided with all useful information to individually find its magazine, such as the number, month and year of publication, starting page and obviously the interviewer's name, other than the magazine front cover, for the benefit of anyone who would like to ask the Publisher for the entire number.
The possibility to read directly from the Author's words about the essence of his poetics, his carreer tale and his point of view about the various spheres of his activity, from international concert performing to composition, from didactics to more specifically aspects of piano performance, in my opinion is an invaluable opportunity to get in touch better with the entire artistic world of a Maestro whose experience can be a great lesson for the professional as well as the simple keen on music.
CD CLASSICA, Year 9th - Nr.85
September 1995 (page 16):
Sergio Calligaris:
a conversation with the Argentinian composer,
by Gregorio Nardi
(Firenze City Magazine Editrice [1])
MUSICA, Year 20th - Nr.98
June-July 1996 (page 44):
Sergio Calligaris:
a sun ray in our days music,
by Umberto Masini
(Edizioni Diapason - Milano [2])
BOLLETTINO SIAE, Year 68th - Nr.4
July-August 1996 (page 192):
Interview to Sergio Calligaris,
by Virgilio Celletti
(Società Italiana degli Autori ed Editori - Roma [3])
CD CLASSICA, Year 13th - Nr.123
May 1999 (page 18):
Sergio Calligaris, pianist-composer,
talks to us about his compositions,
by Danilo Prefumo
(Firenze City Magazine Editrice [1])
SUONARE news, Year 5th - Nr.42
July-August 1999 (page 34):
Be not eccentric:
a meeting with Sergio Calligaris,
by Alice Bertolini
(Michelangeli snc - Milano [4])
COMPACT DISC CLASSICS, Year 1st - Nr.2
October 2000 (page 19):
A conversation with... Sergio Calligaris,
by Danilo Prefumo
(Music and Media Publishing Ltd - UK [5])
MUSICA E SCUOLA, Year 14th - Nr.18
October 2000 (page 6):
The interview - Sergio Calligaris,
by Adriano Bassi
(Gioiosa Editrice - Sannicandro Garganico, FG [6])
Corriere del Giorno, Taranto
La provincia cosentina
October/November 2000
Interviews to Sergio Calligaris
about Double Concerto op.41
ALTA FEDELTÀ DIGITALE, Year 43rd
November 2000 (page 176):
At the editorial office with... Sergio Calligaris,
by Giulio Cancelliere
(Edisport Editoriale S.p.A. - Milano [7])
LA CARTELLINA, Year 24th - Nr.130
November 2000 (page 62):
Conversations - Interview to Sergio Calligaris,
by Giovanni Acciai
(Edizioni Musicali Europee - Milano [8])
MUSICA, Nr.125
April 2001 (page 58):
Sergio Calligaris:
Tradition as audacity,
by Alessandro Zignani
(Zecchini Editore - Varese [2])
COMPACT DISC CLASSICS, Year 2nd - Nr.15
February 2002 (page 12):
Talking with the performers: Sergio Calligaris,
by Danilo Prefumo
(Music and Media Publishing Ltd - UK [5])
PIANOTIME, Year 20th - Nr.184, 2002
THE COVER - An Argentinian in Rome (Page 16):
Sergio Calligaris: rigours, discipline and fantasy
by Raffaella Brizzi
(Publitarget Srl [9])
MUSICALNEWS.COM
23rd May 2002:
Variations on a Sergio Calligaris' theme,
by Antonio Ranalli
(Musicalnews.com - Partner Caltanet [10])
50&Più, Year 25th - Nr.2
February 2003 (page 82):
Sergio Calligaris, sublime pianist
He begins to play in the heart of the night
by Paolo Giorgi
(Editoriale Cinquanta&Più srl [11])
inarCASSA, Year 31st - Nr.4
October/December 2003 (page 86):
Sergio Calligaris
The logic of the form
by Paolo De Bernardin
(Editrice inarCASSA - Maggioli Editore [12])
terzapagina - Nr.2
October 2004 (page 34):
music and literature
A talk with Sergio Calligaris
by Franco Campegiani
(Sovera Editore [13])
Dismamusica Magazine, Year 7th - Nr.17
February 2005 (page 16):
The personage
With the force of enthusiasm
by Cristiano Cameroni
(Italian Society Manufacturers and Importers of Music Instruments and Editions [14])
L'indiscreto, Year 2nd - Nr.10
October 2005 (page 90):
Sergio Calligaris,
music on the Plateau
by Antonio Ranalli
(Associazione Culturale «L'indiscreto» [15])
MUSICA E SCUOLA, Year 19th - Nr.21
December 2005 (page 27):
A meeting with...
Sergio Calligaris
by Walter Tortoreto
(Gioiosa Editrice - Sannicandro Garganico, FG [6])
Rachmaninoff Society Newsletter - Nr.66
June 2006 (page 10):
Sergio Calligaris
by Maurizio Brunetti
(Rachmaninoff Society [16])
Il Settimanale di Padre Pio, Year 5th - Nr.49
10th December 2006 (page 24):
Meeting Sergio Calligaris
by Maurizio Brunetti
(Associazione «Il Settimanale di Padre Pio» [17])
Cultura&Identità, Year 2nd - Nr.4
Rivista di studi conservatori
March - April 2010 (page 68):
Classical Music between tradition and innovation
An interview with Professor Sergio Calligaris
by Maurizio Brunetti
(Cultura&Identità [18])
Arte e Fede, Year 23rd - Nr.42
INFORMAZIONI UCAI - 4Mon.magazine of Art and Culture
September - December 2011 (page 51):
Interview to the renowned composer Sergio Calligaris
That's not true. Classical music is not for a few privileged
by Alessandra Pompili
(U.C.A.I. Unione Cattolica Artisti Italiani [19])
---

All rights of reproduced interviews from the indicated magazines belong to the specified Publishers, whose details at the moment of the issue follow hereafter:


[1] Firenze City Magazine Editrice
Via Agnoletti, 90/A
50052 Certaldo (FI) - Italy
Tel.: +39 0571 66 86 98 - Fax: +39 0571 65 21 48

[2] Datacompos snc
Via Tonale, 60
21100 Varese - Italy
Tel.: +39 0332 33 10 41 - Fax: +39 0332 33 10 13

[3] Società Italiana degli Autori ed Editori
Viale della Letteratura, 30
00144 Roma - Italy
Tel.: +39 06 59 901 - Fax: +39 06 59 64 70 52 - 59 90 458

[4] Michelangeli snc
Viale Lombardia, 5
20131 Milano - Italy
Tel.: +39 02 70 63 22 52 - Fax: +39 02 23 67 253

[5] Music and Media Publishing Ltd.
11, Blackstock Mews
London N4 2BT (England)
Tel.: +44 (0)20 7359 3024 - Fax: +44 (0)20 7359 6167

[6] Gioiosa Editrice
Via della Repubblica, 16/A
71015 Sannicandro Garganico (FG) - Italy
Tel. and fax: +39 0882 47 14 77

[7] Edisport Editoriale S.p.A.
Via Gradisca, 11
20151 Milano - Italy
Tel.: +39 02 38 085 1 - Fax: +39 02 38 01 03 93

[8] Edizioni Musicali Europee
Via delle Forze armate, 13
20147 Milano - Italy
Tel. e fax: +39 02/48.71.31.03

[9] Publitarget Srl
Via G. Calderini, 68
00196 Roma - Italy
Tel.: +39 06 332 46 294 - Fax: +39 06 233 247 714

[10] Musicalnews.com - Partner Caltanet
Director: Giancarlo Passarella
Casella Postale 2290 - 50100 Firenze A.D. - Italy
e-mail: info@fanzine.net

[11] Editoriale Cinquanta&Più srl
Via del Melangolo 26
00186 Roma - Italy
Tel. +39 06 6872 515/06 6872 516 - Fax +39 06 6872 597

[12] Editrice inarCASSA
Via Salaria, 229
00199 Roma - Italy
Tel.: +39 06 852741 - Fax: +39 06 8840090

[13] Sovera Multimedia srl
Via Vincenzo Brunacci n.55
00146 Roma - Italy
Tel. + 39 06.5562429

[14] S&G Partners srl
Via Bainsizza, 30
20039 Varedo (MI) - Italy
Tel. + 39 0362 583672 - Fax + 39 0362 544356

[15] Associazione Culturale «L'indiscreto»
Director: Mario Sbardella
Via Paganini n.69
67051 Avezzano (AQ) - Italy
Tel. + 39 0863.432432

[16] Rachmaninoff Society


http://www.rachmaninoff.org/


[17] Associazione «Il Settimanale di Padre Pio»
Director: Father Stefano M. Miotto
Piazza San Biagio, 21
03040 Sant'Ambrogio S.G. (FR) - Italy
Tel. +39 0776.985011

[18] Cultura&Identità
Director and Publisher: Oscar Sanguinetti
Via Ugo da Porta Ravegnana, 15
00166 Roma - Italy
Tel. +39 347.1663059

[19] U.C.A.I. Unione Cattolica Artisti Italiani
Director: Francesca Falco
Via del Babuino, 197
00187 Roma
Tel. + 39.06.3233755