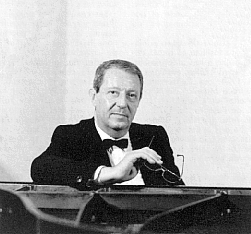 This page contains titles of recordings on LP and CD with pieces of music by Sergio Calligaris as well as his performances of other authors.
For most of CDs and LPs have been reproduced the front cover and the enclosed notes - when available - in order to better situate the record content and to complete what said up to now about Maestro's art with further information.
In the concerning page, other than reading the html transcription, a click on the front cover will allow to display the text reproduction in AcrobatReader© format, included for documentative purpose.
At Edition Carisch the CDs "Shorts for spot and film" and "Contemporary Classical Music" here described are available on demand.
FAMOUS ENCORES
Sergio Calligaris at piano
[LP (1969): EMI - His Master's Voice, stereo 053/17973]
SERGIO CALLIGARIS at Piano
Concert offered by Vatican Radio to E.B.U.
[LP (1969): Libreria Editrice Vaticana, stereo LEV 004]
RECITAL
Sergio Calligaris at piano
[LP (1971): Orion Records, stereo ORS 7142]
FANTASIA ROMANTICA
Sergio Calligaris at piano
[LP (1971): Orion Records, stereo ORS 7154]
THE MOST BEAUTIFUL CHOPIN
Sergio Calligaris at piano
[LP (1971): Orion Records, stereo ORS 7155]
PIANO MUSIC OF LATIN AMERICA
and works by Schumann, Chopin and Ravel
Sergio Calligaris at piano
[LP (1972): Orion Records, stereo ORS 7286]
CONTEMPORARY - volume VI
Compositions by Sergio Calligaris
[LP (1980): Classico Records distr. Ricordi, CO LP 3615]
PIANO NOTEBOOKS
Sergio Calligaris and Marcella Crudeli, pianos
[CD (1989): Ente dello Spettacolo EDS 1, Nuova Carisch distribution CK904]
SERGIO CALLIGARIS:
composer & performer
in 25th Anniversary of his recording début.
[CD (1993): Ares - Libreria Editrice Vaticana, DDD - ACD 069]
International "Città di Castelfidardo"
Prize and Award 1995
Sergio Calligaris: Preludio, Corale e Finale, op.33 for accordion
Soloist: Vitalji Dimitriev
[CD (1995): PHM97093OM, DDD, distribuzione P.H.Music Worx]
SERGIO CALLIGARIS
Symphonic and piano music
[CD (1996): Agorà AG 042.1, DDD, Nuova Carisch distribution]
NAMASTE CLARINET QUARTET
Sergio Calligaris: Clarinet quartet nr.1 op.34
[CD (1997): M.P.S. LONDON, DDD, CD 005]
SHORTS FOR SPOT AND FILM
Contemporary classical music by Sergio Calligaris.
[CD (1999): ckpromo 1, DDD, Nuova Carisch]
FRANCESCO PALAZZO,
Classical Accordion
Sergio Calligaris: Preludio, Corale e Finale, op.33 for accordion
[CD (2000): PH 99516, Phoenix Classics]
CONTEMPORARY CLASSICAL MUSIC
Contemporary classical music by Sergio Calligaris.
[CD (2004): PROM36, DDD, Carisch s.r.l.]
AliciaCorreas, piano
Padre Antonio Soler / Mateo Albéniz
Joaquín Rodrigo / Sergio Calligaris
Sergio Calligaris: Three Studies op.11
[CD (2004): Cosentino Producciones, DDD, SC 1250]
SERGIO CALLIGARIS
. . . Rigor y Pasión . . .
[CD (2006): DAD RECORDS, DAD-021-2, DDD 24 Bit/Khz 96]
Omaggio a Sua Santità Benedetto XVI
armonie della sera
chamber music festival (third edition)
Sergio Calligaris: Ave Maria, op.8 and op.8a - Panis Angelicus, op.47
[CD (2007): armonie della sera, DDD, ADS 06]
Laura & Beatrice Playing
Music of George Gershwin - Fazil Say - Sergio Calligaris
Laura & Beatrice Puiu, piano
[CD (2008): SferMusic, DDD, LBP 00108]
Marco Falaschi & Marco Podestà Duet
Music of Thomas Fortmann - Joseph Vella - Sergio Calligaris -
Filiberto Pierami - Pedro Iturralde
[CD (2009): ANTES Edition, DDD, BM 31.9256]